Created on Wednesday, 16 May 2012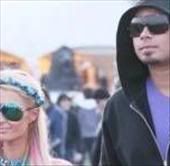 Afrojack did not had much time for his newlyborn daughter Vegas, because Paris Hilton was waiting for him.
At least that is what the magazine "Story" writes. After Afrojack held his daughter Vegas for the first time, he left to see Paris Hilton and visited Disneyland in Paris with her.
According to Amanda, the former girl friend they did not talk about Paris. "We don't talk about Paris, it's his thing." Vegas was born in March and Afrojack just met her last week.
Afrojack whose real name is Nick van der Wall, seperated in september 2011 from Amanda after a heavy fight.
"I don"t think the baby will know the difference if I see her now, or over a couple of weeks. I prefer to work hard now so the future of Vegas is ensured," Afrojack told in an interview.
source Telegraaf Prive