Created on Wednesday, 16 May 2012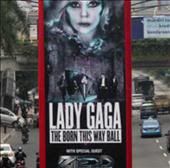 Indonesia, Jakarta
The authorities of Indonesia will not allow Lady gaga to give a show in the capital Jakarta. The show was planned for June, 3 and the authorities fear that the sexy clothes and ditto dancemoves overrule the islamic law and will corrupt the youth. According to the press agency AP the decision was made because a group of radical islamics did a protest against the show. There were anonymous threats made that Gaga "physically would be addressed" if she would set foot on Indonesian soil.
The 52.000 tickets for the "Born this way" was sold out in 2 hours, the organizer of the concert said that he regrets the concert was cancelled.
Mariska Renata bought 2 tickets for the show said to be dissapointed. "To bow for religious demands, will give them only more power. We are adult enough ro seperate our personal morals and values from art and culture."
The Asian part of the worldtour , which started last month is a huge succes. Almost all concerts were sold out.
source Parool.nl